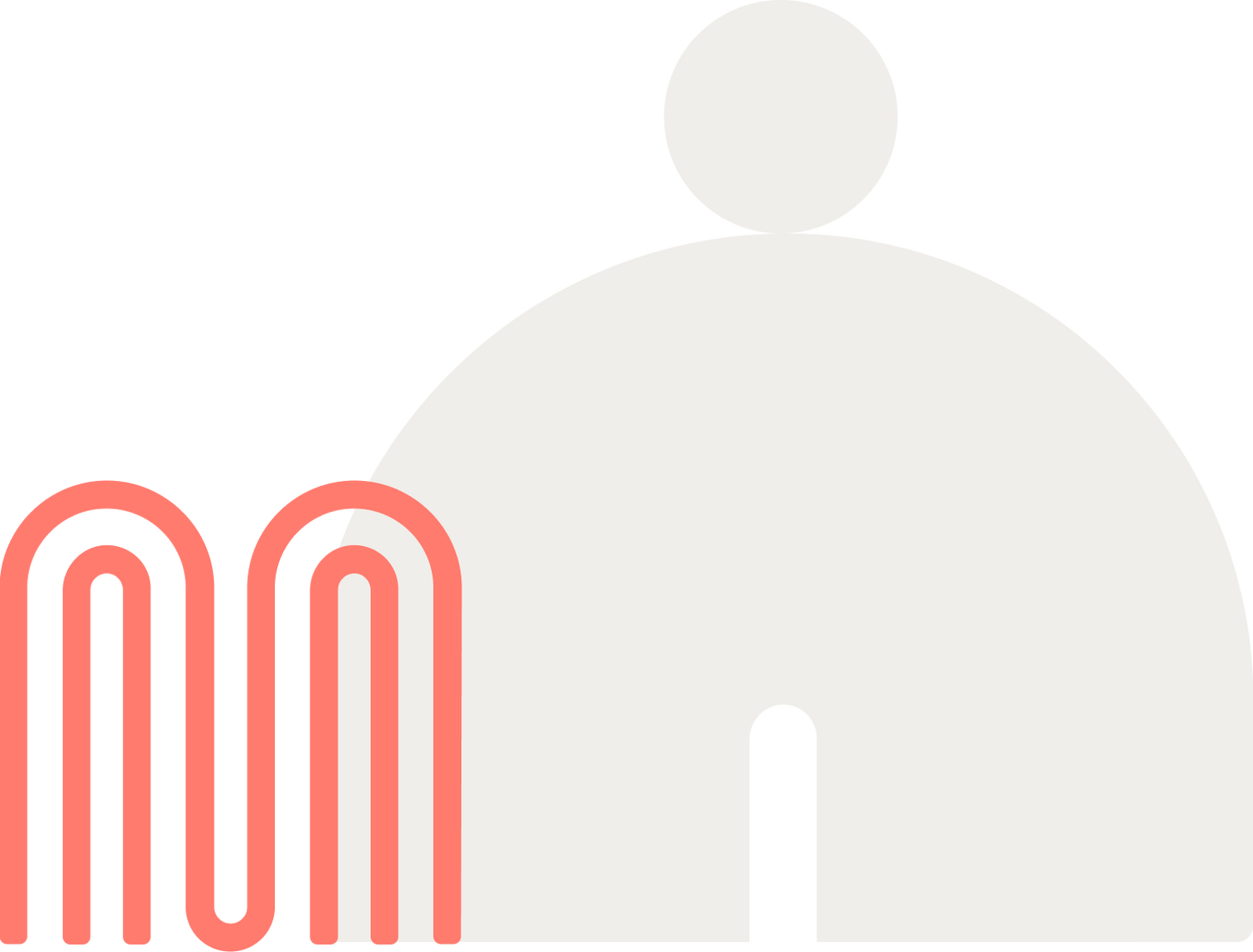 Our Story
Designed exclusively for bunnies by someone living with them.
Dear dedicated bunny parents,
Thanks for checking out BINK Rabbit Goods! My name is Jeni Nguyen and I'm a bunny mom to two free-roam rescued house rabbits, named Betty and Elvis. They're 10 and 8.5 years old, and we've been living together in rainy Portland, Oregon for over 8 years.
BINK began as a fun creative outlet that combines the things I'm passionate about, bunnies + design. It's thoughtfully named after a special jump for joy only bunny lovers would recognize, and what we aim to do: bring more joy to bunnies and their people.
BINK started when solving my own house rabbit problems...

→ How to get their messy hay under control?
→ How to get your rabbits to love you more?
Meet Elvis the gray lop, Betty the black uppy-eared rabbit, and Jeni their human. We've been living harmoniously together for over 8 years.
A typical x-pen home-base didn't blend in with our style + an open litter box was way too messy for our liking.
My immense rabbit-related frustrations drove me to invent a solution that didn't exist yet...
I simply couldn't deal with my rabbits' messy hay anymore

(I

 

was seriously

 

drowning in hay).

I was tired of spending copious amounts of time cleaning + the rest of their clutter cramping my style... NIC grids and X-pens didn't fit with my aesthetic.

I felt too embarrassed to invite people over.

 I love entertaining and hosting dinner parties, but I'm embarrassed to admit, the thought of friends and family judging my chaotic bunny lifestyle kept me up at night. 

And my bunnies didn't seem to love me.

 

I tried everything from hand feeding, floor-time, ignoring them, and desperately mirroring them (pretending to groom myself like a truly hopeless rabbit person)—nothing was working. After what felt like an absurd year of laying quietly on the floor, all I gained was a sore back and a broken heart from unrequited love...

*I'd had enough.*

 

(But giving up my bunnies was not an option.) 
Not only am I a bunny mom, but I'm also a designer with a background in architecture. So I took a hard look at these problems, put my skills to the test, then ended up designing the world's first furniture solution for free-roam house rabbits—fully funded on Kickstarter in 2022!

My immense rabbit-related frustrations drove me to invent a solution that didn't exist yet.
A Solution to All My Bunny Woes!
If you're anything like me, a person who cares deeply about their bunnies and wants to make living with them easier and more rewarding—I made BINK just for you.
Even if your rabbit is taking over your life, it doesn't have to look like it… ;)
BINK's furniture saves you time cleaning messy hay, every single day. 

Perfectly fits with your home's style, without the chaotic bunny clutter.

Lets you effortlessly earn your rabbit's trust by relaxing together. 

And get friends and family to take your bunnies seriously (changing misconceptions about domestic rabbits at large).
Our bond has strengthened immensely now that we can easily spend more time in the living room together. Best of all, their hay is no longer an issue and they ended up loving me more in the process! (How great is that?!)
Rabbit-safe Furniture—An Investment That Lasts a Lifetime
I set out to make the *perfect* piece of furniture to solve all of my rabbit problems, something I really wanted for my life with Betty & Elvis. 
So I worked closely with a rabbit-savvy vet to make sure my designs wouldn't cause them any harm. I found out that rabbits are extremely sensitive creatures and require strict material/finish choices to make bunny-safe furniture.
After 2.5+ years of extensive research and development on making the safest and accident-proof solution for rabbits, we use premium materials, finishes, and intricate details you won't find with conventional furniture.
My perfect bunny-safe solution is high-end, eco-friendly furniture, handcrafted to last a lifetime (and bunnies can easily live 10 years with proper care).
For us, it's worth it.
This special piece of furniture has been the best thing that's happened to me and my bunnies. After all this passionate hard work, it has been incredibly rewarding and fulfilling to make an impact on other rabbit people too. 
BINK's furniture is hands-down the safest, longest lasting, and most sophisticated set-up exclusively for free-roam house rabbits on the market.
It's a patent-pending piece of handcrafted furniture that makes being a rabbit parent so much easier and more rewarding.
BINK is founded on the belief that...
Bunnies deserve better—better options and better awareness!
At BINK, we believe that dedicated bun-parents can easily help raise awareness and advocate for the welfare of all pet rabbits by simply showing non-rabbit people how beautifully you live with your bunnies.
Whether you share a pic on social media or at home with friends and family, we want non-rabbit people to understand how sophisticated bunnies really are. 


Get the humans in your life to understand how sophisticated bunnies really are and help take domestic rabbits to the next level!
We're on a mission to...
Help rabbit parents live with their bunnies better.
+
Save bunny lives by changing misconceptions about domestic rabbits. 
Together, let's help take bunnies to the next level!
If you dig our mission, join our VIP Bunny Club at the bottom of this page! Be the first to know about important updates! Our goal is to help you take your rabbits to the next level regardless if you choose to purchase our products or not. But when you're ready, we'll be here for you. ;)
Yours truly,

✿ Jeni Nguyen
Bun-mom & Founder
BINK Rabbit Goods