Regular price
Sale price
$5,995 USD
Unit price
per
Sale
Sold out
ONLY 1 BUNNY CREDENZA LEFT AND READY TO SHIP NOW.
We're not restocking our innovative bunny furniture for the foreseeable future—get the last piece before it's gone for good. 
As an added bonus, use code 'LASTBUN' at checkout to get bonuses valued at $230+ for *free*...
+ mini dustpan set 
+ cozy BINK sweatshirt
+ 'Breakfast With My Bunny' ceramic stoneware set 
+ Reserved seat to our online seminar 'Better Bunny Living LIVE'
Estimated delivery in 2-4 weeks.

Available in the Honey finish and can be refinished to the Creme color at an additional cost upon request. Please email hello@binkrabbitgoods.com to inquire.

Are you located near Portland, Oregon? Save $800 with local pickup. Please email hello@binkrabbitgoods.com to inquire.
--------------------
The safest accident-proof litter box cover furniture made just for bunnies, a home-base, and a console table all in one. 

Hands down the most sophisticated set-up exclusively for free-roam house rabbits on the market—not for your average bunny parent.
Beautifully handcrafted, patent-pending litter box solutions for life with modern house rabbits. Quality compares to high-end custom furniture.
→ Save time cleaning messy hay.
→ Beautifully hide your rabbit's litter box.
→ Rabbit-savvy vet approved.
No more chaotic bunny clutter—a set-up that perfectly fits with your home's style. 
Healthy rabbits need ample room for endless zoomies and binkies, so we designed a unique litter box set-up that seamlessly blends with the largest area of the home—usually the living room. It's a chic alternative to X-pens and NIC grids (intended only for free-roam indoor house rabbits, not a full-time enclosure). 
Suitable for 1-2 indoor house rabbits. 
Bunnies Betty & Elvis approved (featured bunnies are ~4lbs each for reference). 
Because of the natural characteristics of wood, slight variations in color, texture, and grain pattern may occur. Actual colors may also vary due to computer monitors displaying colors differently.
Rabbit-Safe Materials & Care

Rabbit-Safe Materials:

Made with rabbit-safe and eco-friendly materials—premium baltic birch plywood (comprised of NAUF soy-based technology), exterior is finished with hard-wax oil (durable blend of natural vegetable oils), interior is laminated with a waterproof & wipeable material, and powder-coated metal front screen and hay feeder.

Material specifications and overall design reviewed and approved by rabbit-savvy exotic pet vet, Dr. Mark Burgess, DVM (and quality control experts, bunnies Betty & Elvis).



Care Instructions:

Wipe exterior clean with a soft damp cloth. Like all wood furniture, always use a placemat or coaster on the top surface to avoid staining, and never use common household cleaners as this can strip the finish.

Clean interior with a 1:1 water-to-vinegar solution (or other natural all-purpose cleaner).

Handcrafted with love in Portland, OR, USA
Size & Key Features

Dimensions:

68"W x 21"D x 18.5"H (16.5"H with feet unscrewed).
>8.5 sq ft interior area.
Weighs ~110lbs (max weight capacity <200lbs)

Comes With:

Litter Pan (18.5"L x 15"W x 5"H)
Repair Kit to fix minor nibbles or surface stains.

Key Features:

Hidden litter box compartment for 1-2 rabbits.
Built-in chew-proof hay feeder (openings are 4" wide).
Large human-free hangout zone.
Waterproof and wipable interior. The interior is laminated with a waterproof material and the seams are sealed to prevent leaks or absorbing accidents.
Easy to clean with removable sliding doors (with a magnetic catch) and a removable chew-proof metal screen.
A small storage cubby, great for storing treats, grooming supplies, etc.
7" wide arch entry to litter box zone. (12.5" tall)
Flooring has anti-slip properties, some bunnies may prefer an added blanket or silicone mat for additional traction underfoot.
Removable legs let you place furniture directly on the floor for mobility-challenged buns or install found legs for a custom look that perfectly suits your space.

Please see additional detailed specifications below.
Free Shipping

White glove delivery is included within the contiguous U.S. and Canada (some exclusions apply). Additional fees, duties, and taxes where applicable.
Ships fully assembled and delivered inside your home. No additional assembly is required. Our furniture does not come flat-packed.
Estimated Delivery 2-4 Weeks.
Free shipping is not included outside of the contiguous U.S. and Canada. Email hello@binkrabbitgoods.com  for all other destinations.
Please see shipping policy for more info.
Important: Recommended Use

Bink's furniture is intended for use with indoor house rabbits, paired with ample room for exercise and enrichment, not a full-time enclosure.

Be advised that this furniture is not recommended for rabbits with severe chewing tendencies or rabbits with heads measuring within +/- 1.5 inch to avoid choking risk.

To make sure your rabbit adapts well to their new furniture, we recommend monitoring your pet closely during the first few days (particularly in the case of very young rabbits).
Price, Explained

We get it, it's strange seeing rabbit furniture cost this much. The truth is that it costs more to make higher-quality products.

Here are the three main reasons why the costs are landing where they are (not including things like design, testing, content, salaries, storage...):

We refuse to offer products that we wouldn't feel comfortable using with our own bunnies. Rabbit-safe materials/design means higher-quality eco-friendly materials and intricate details that require 4x as much labor as regular furniture (i.e. materials/finishes non-toxic to rabbits, waterproof interior, chew-proof metal hay feeder, etc). See 'What do rabbit-safe materials & design mean?' on our FAQ page for more info.
USA-handcrafted furniture, using ethical labor, is comparable to high-end custom furniture in quality and value.
Shipping heavy bulky items like furniture inherently cost more. White glove delivery is included in our prices.

We ultimately view our furniture as a unique investment that will last a lifetime with proper care, and helps makes life with bunnies easier and more rewarding.
Affirm Disclosure

If one or more items in your order has an extended ship date, your loan payment(s), including interest, may be due before the merchant ships all of the items. Please note that you may not receive a rebate of any interest that may have already accrued on an amount that later gets refunded.
Share
View full details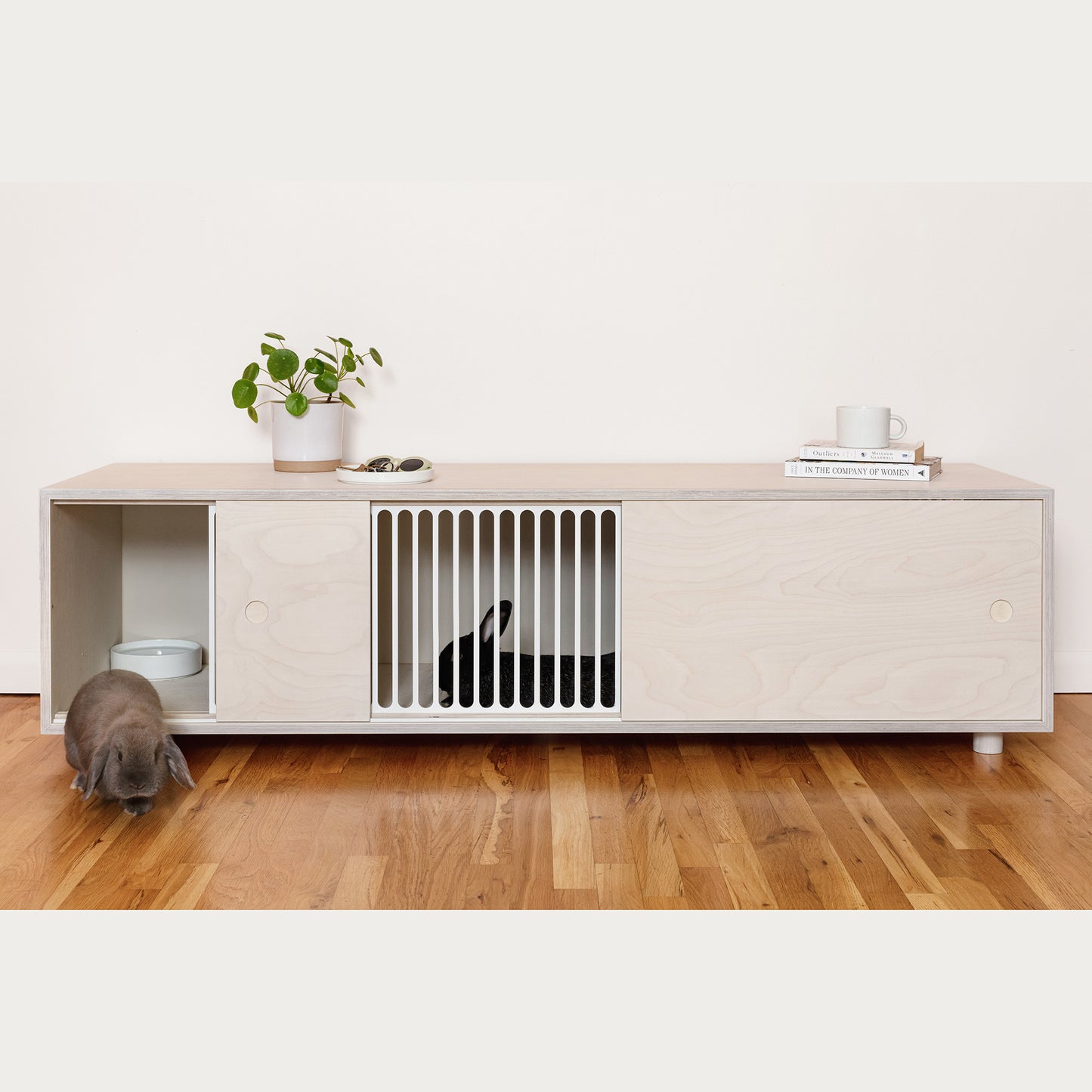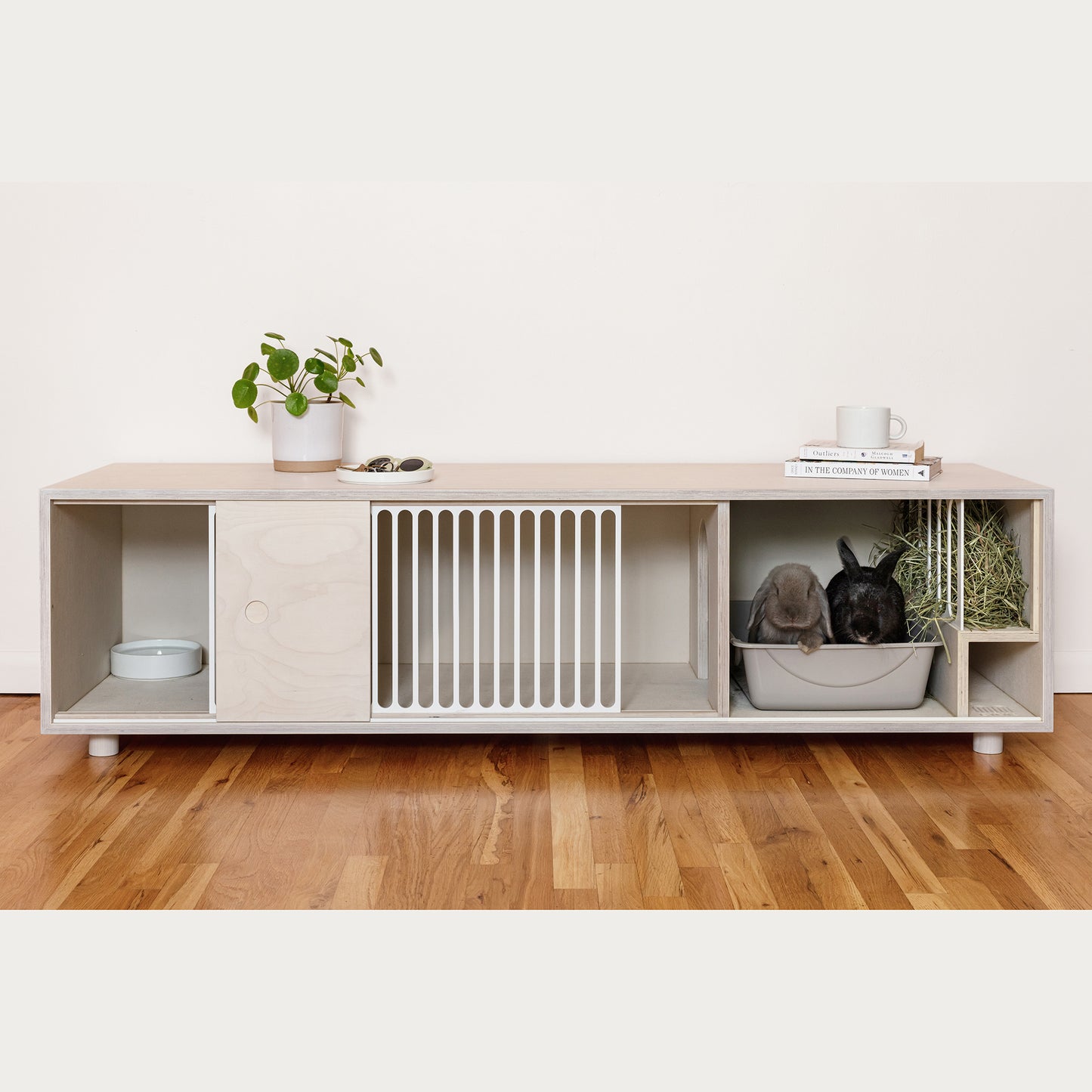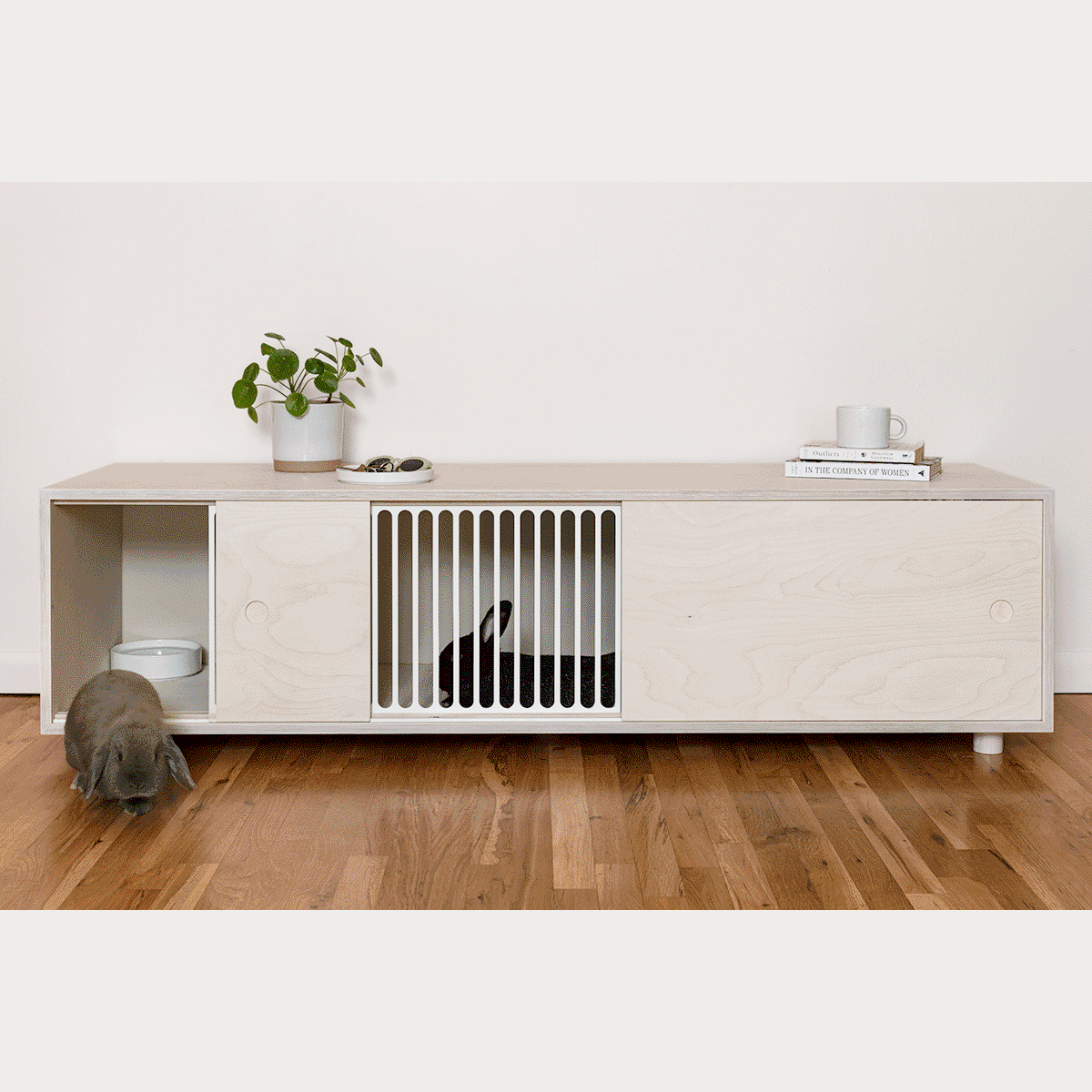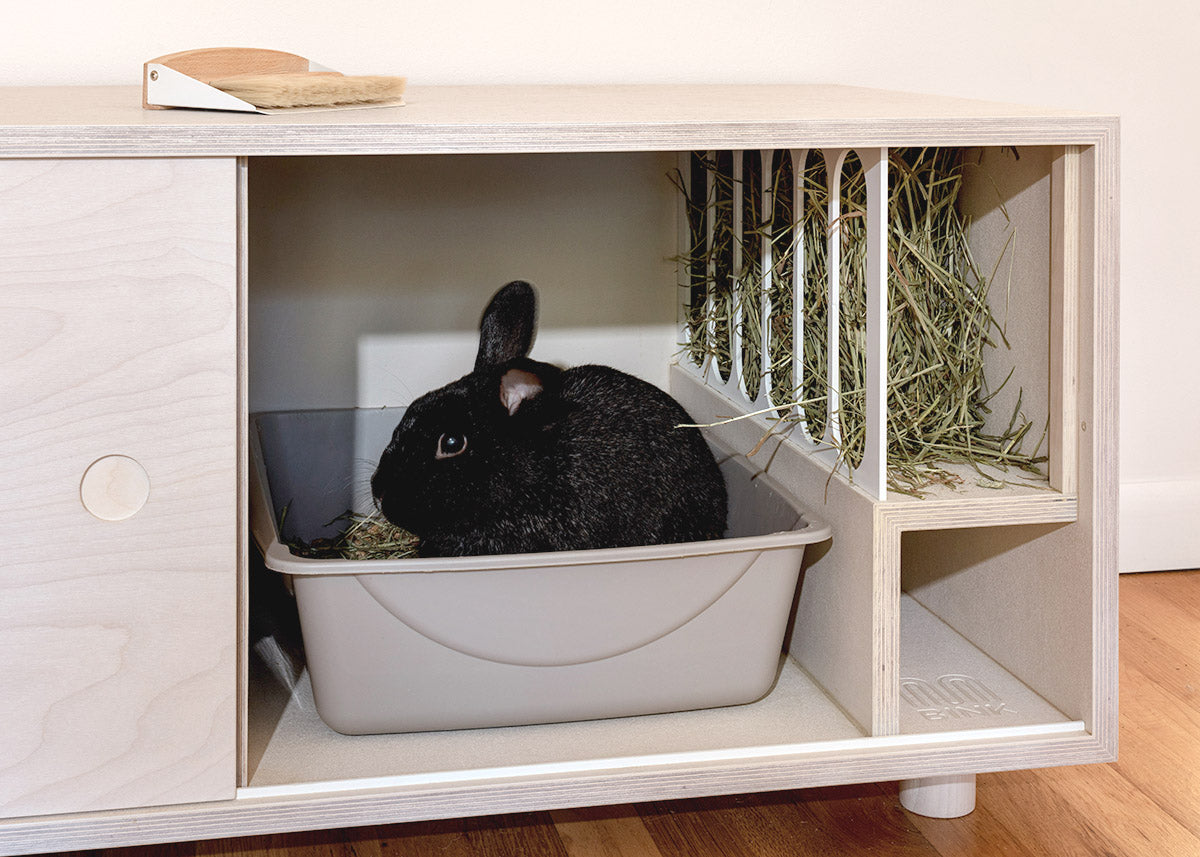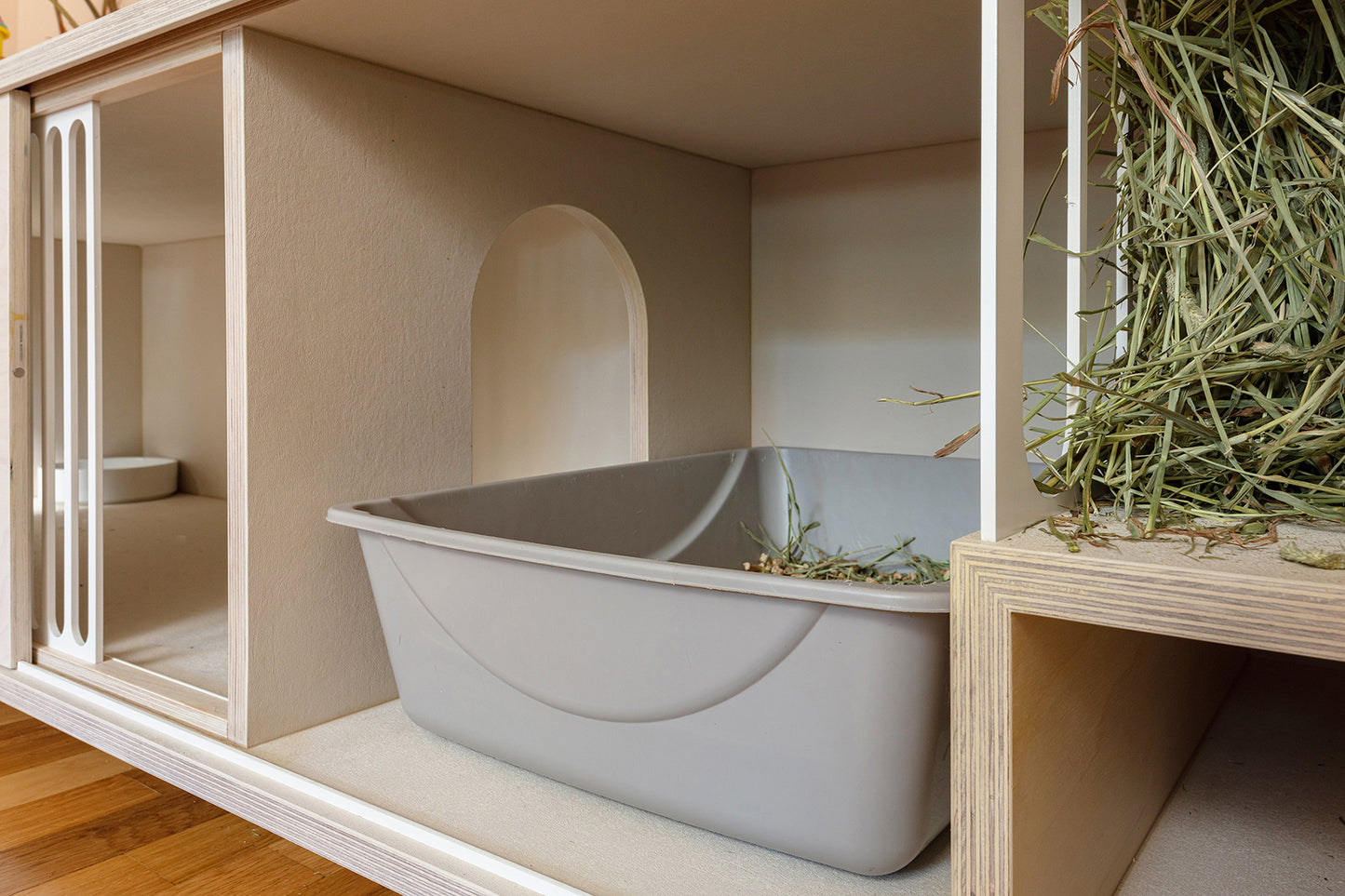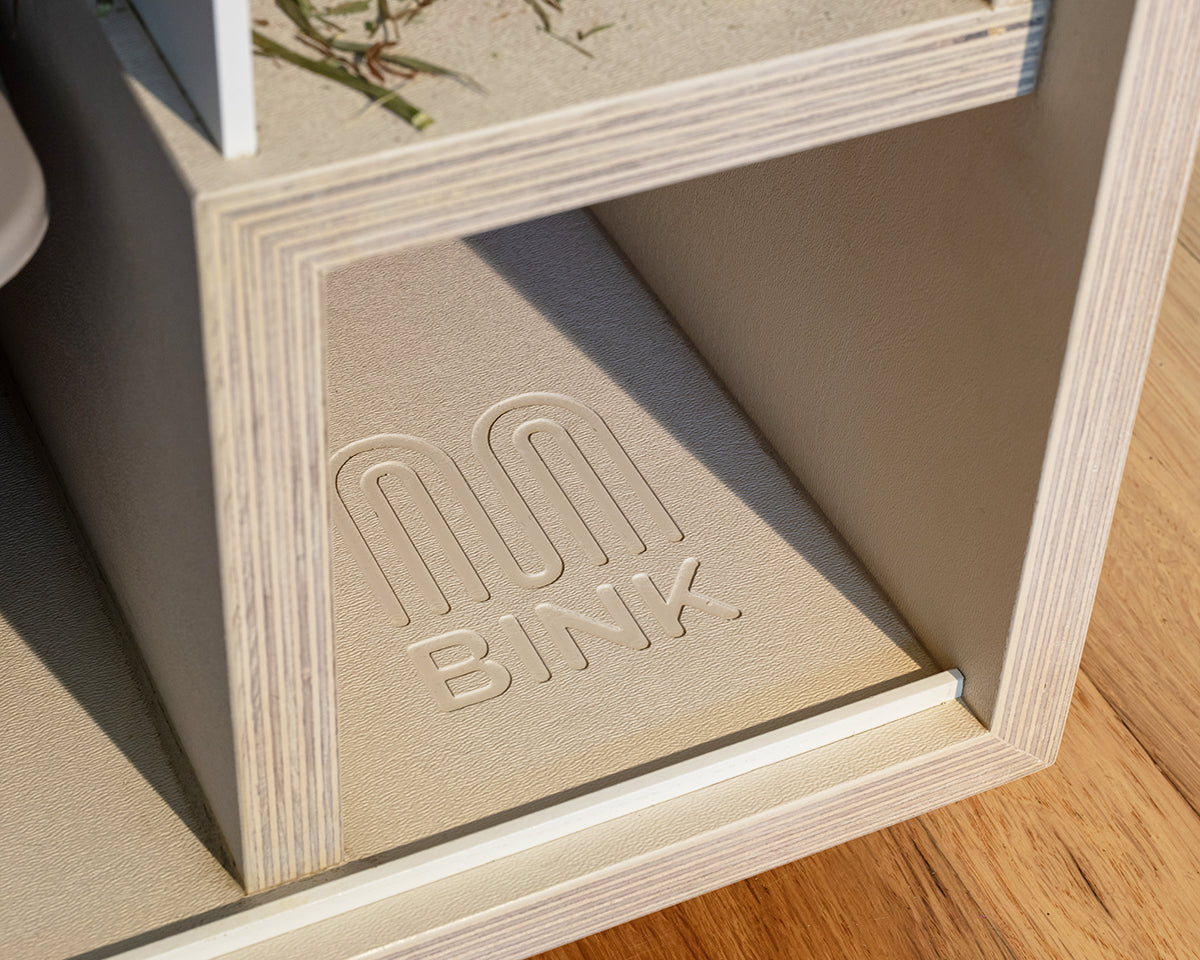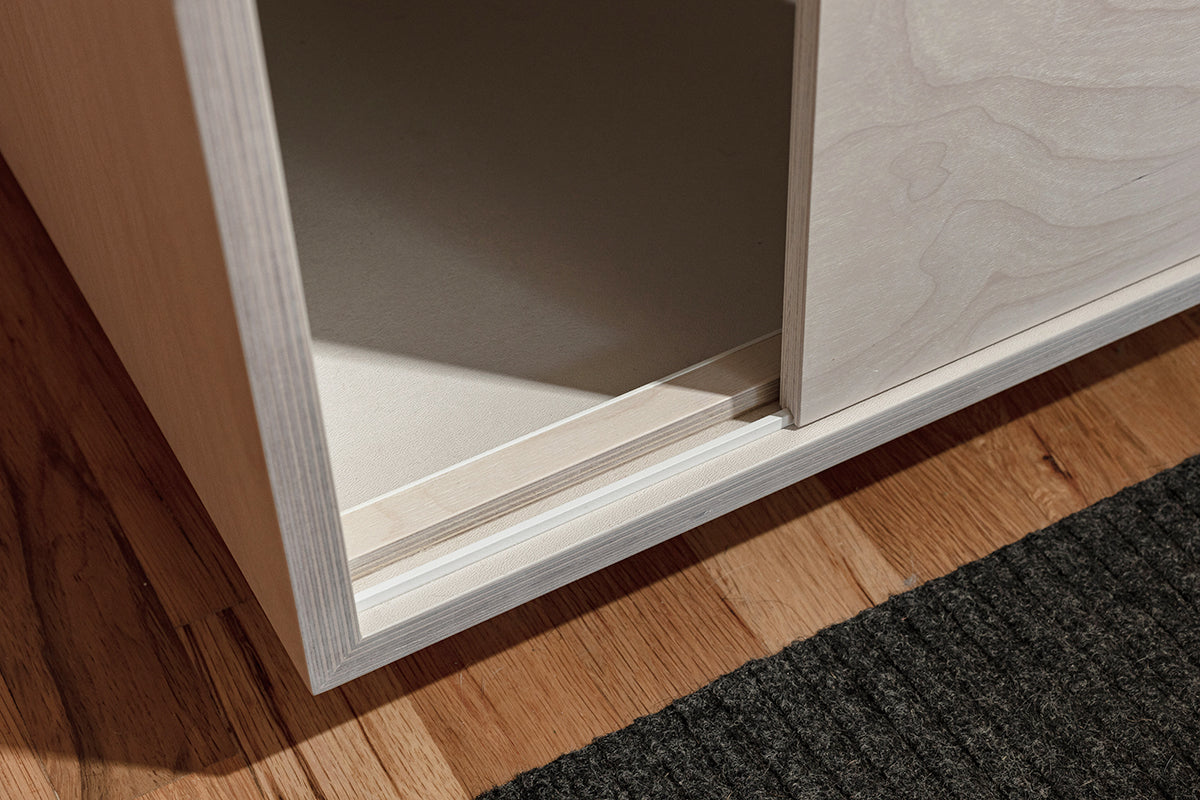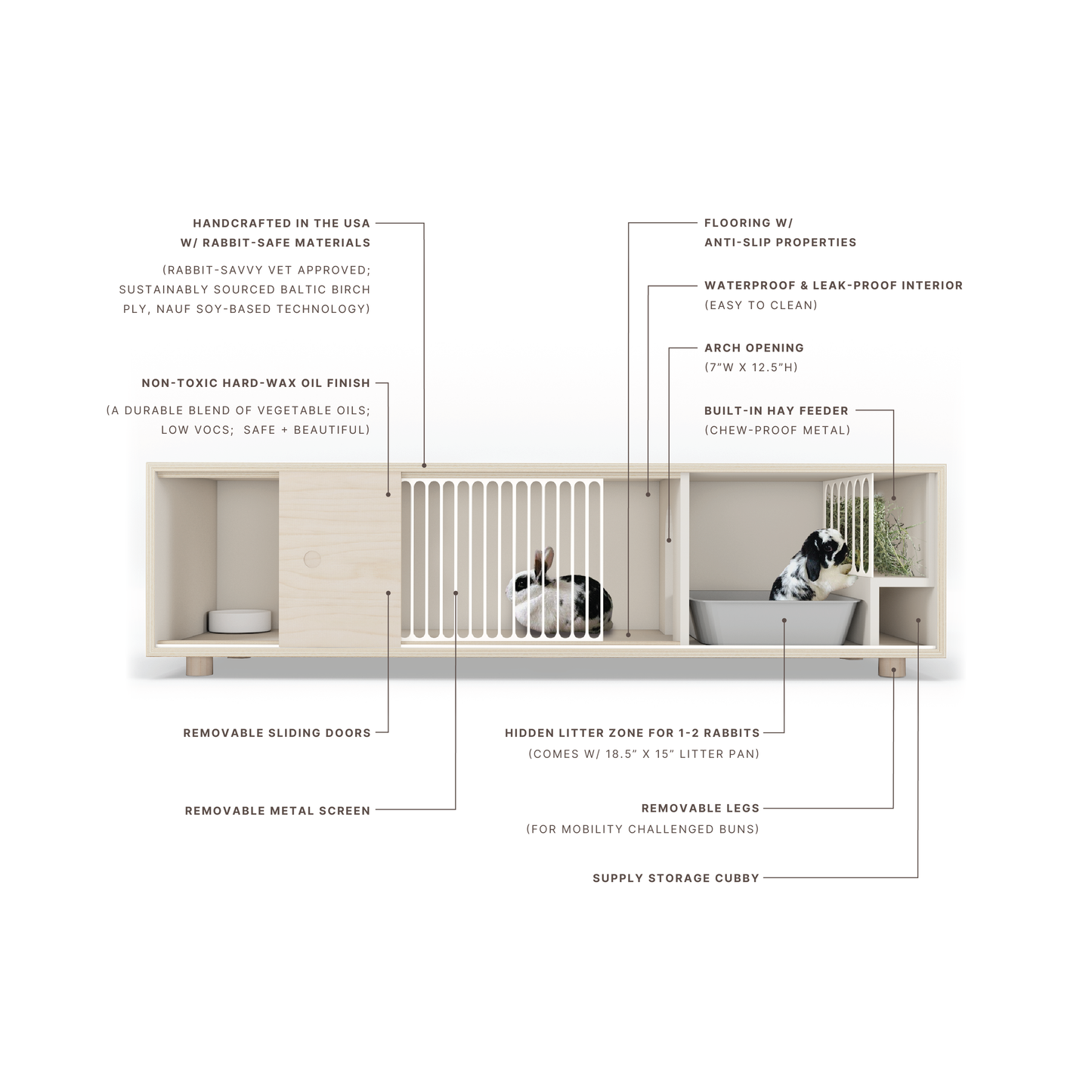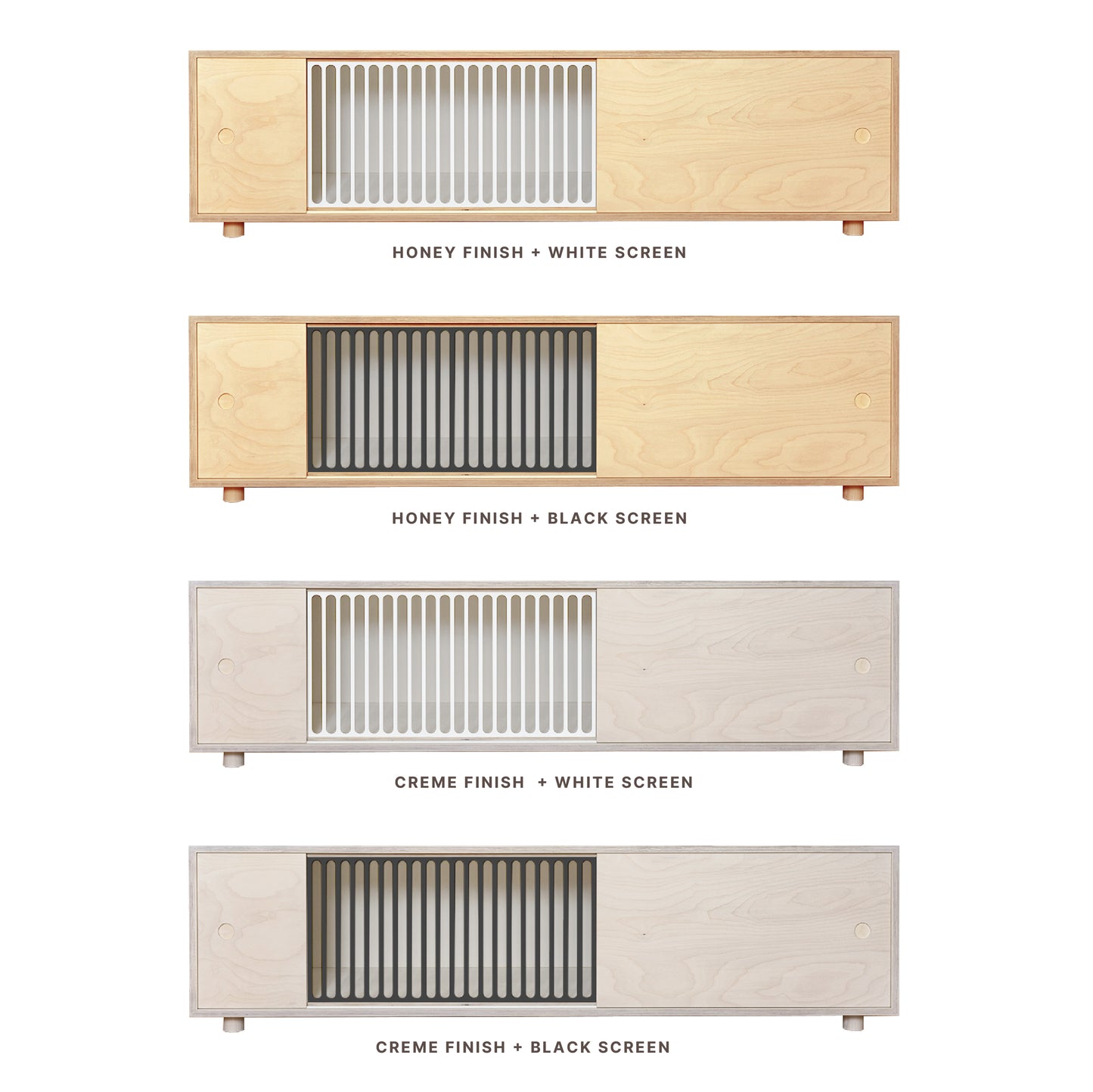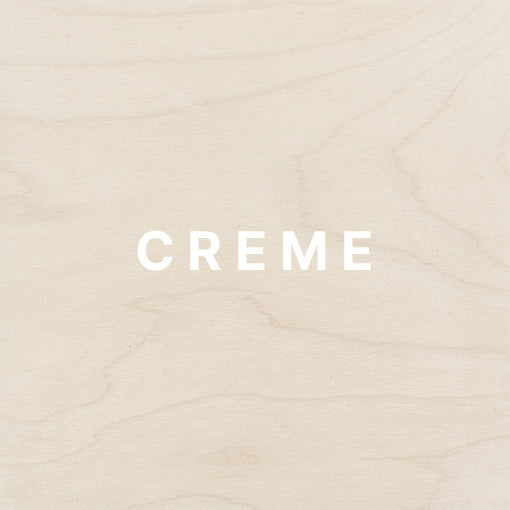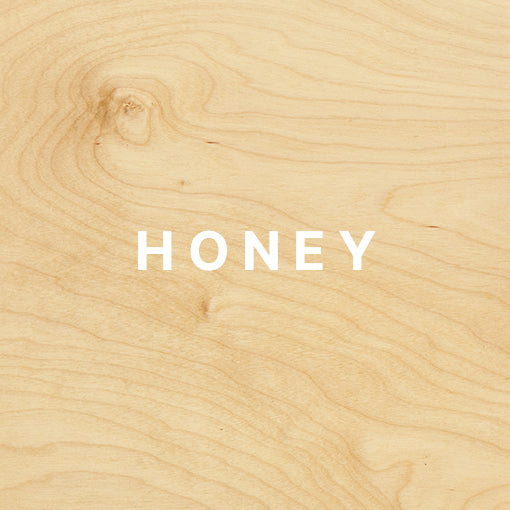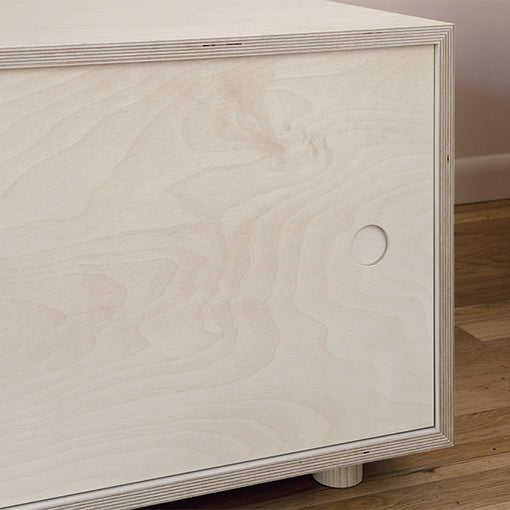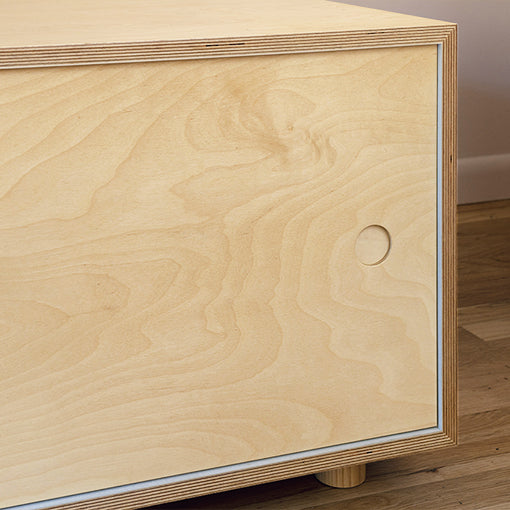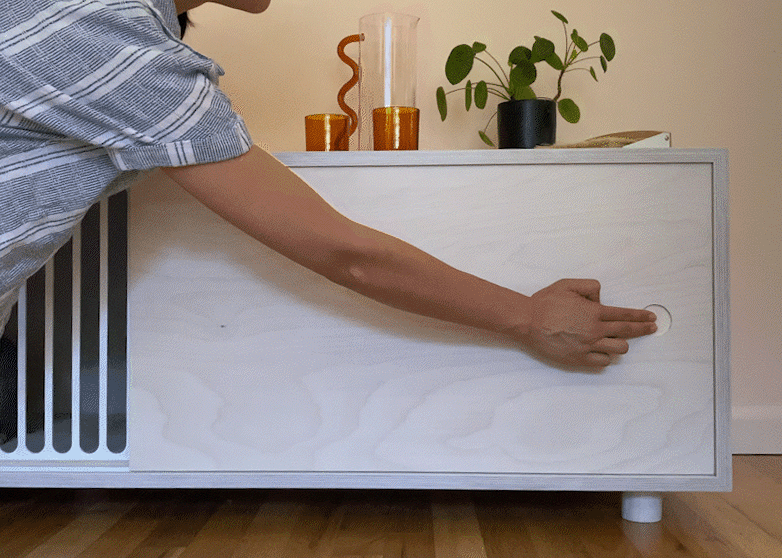 Save time cleaning messy hay, every single day.
A large built-in hay feeder drastically cuts the number of times refreshing hay + a covered litter box helps keep it all contained (and out of sight). Finally, no more living in a field of hay!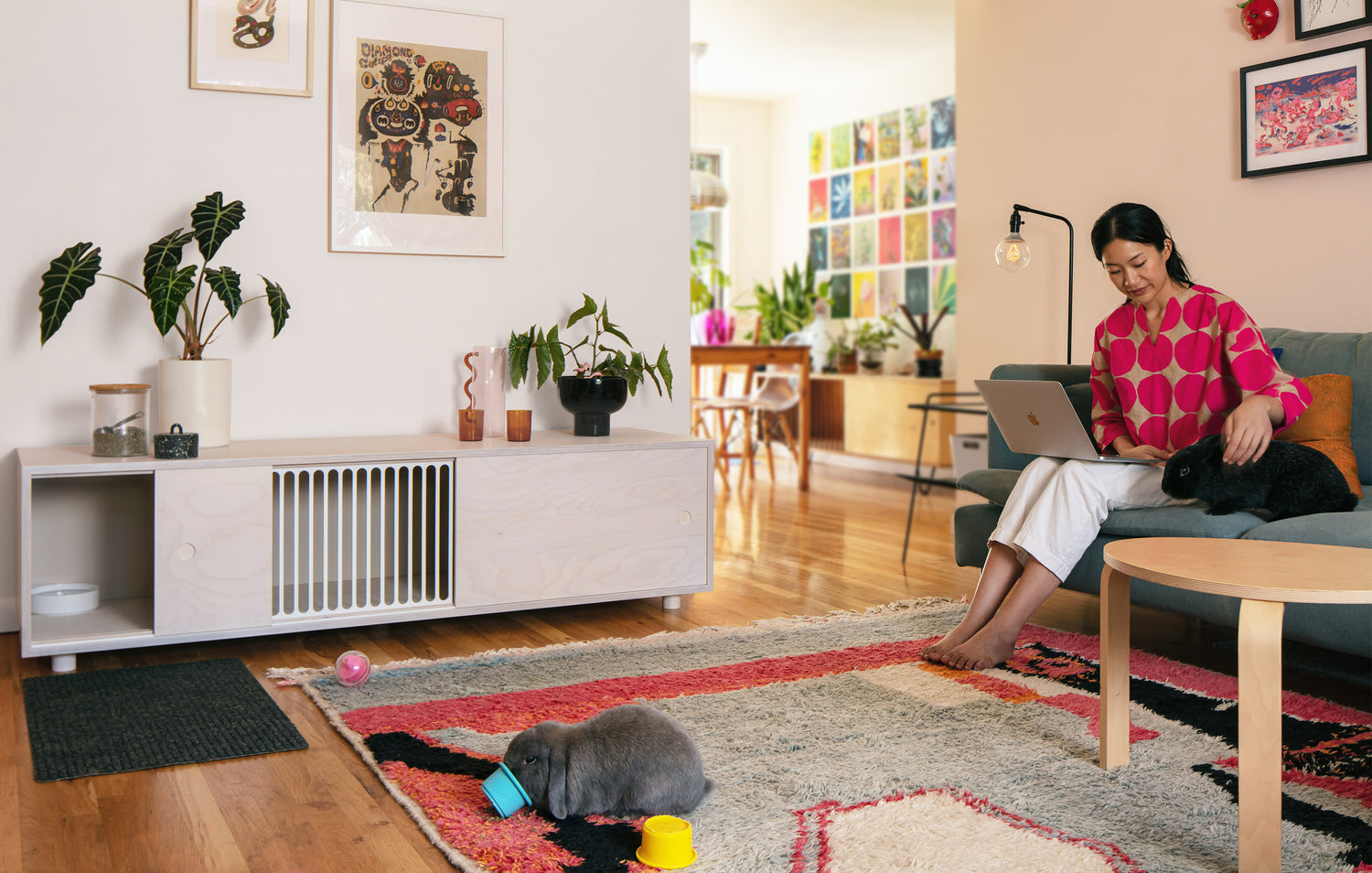 Effortlessly earn your rabbit's trust by relaxing together.
Convince that somebunny to love you more and bond while doing things you normally do, like binge-watching your favorite shows or working from home, but together.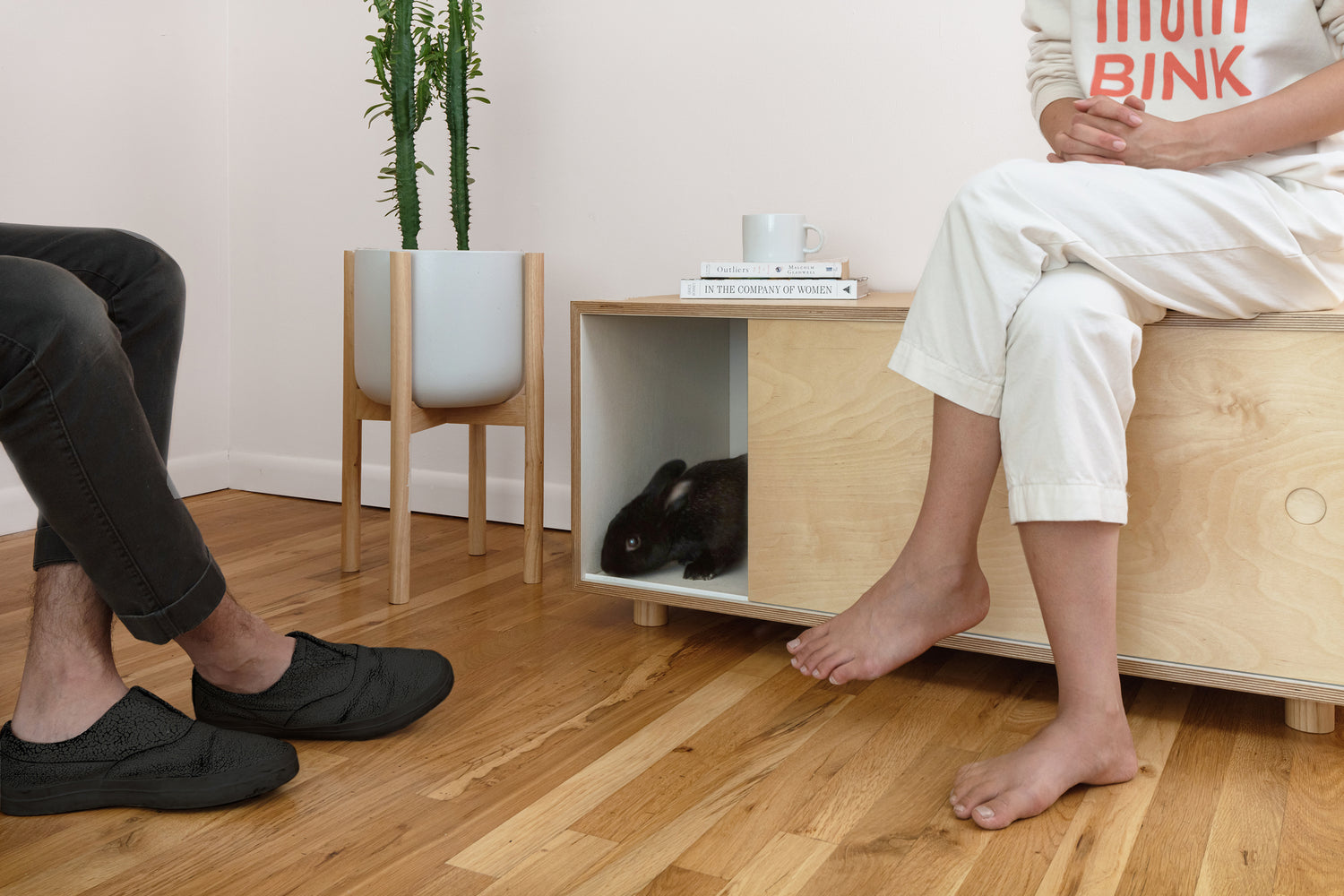 Get friends and family to take your bunnies seriously.
No longer be embarrassed by your rabbit inevitably taking over your home and help raise awareness by showing the humans in your life how amazing rabbits really are.
Perfectly fits within your home's style.
Bink's furniture camouflages your rabbit's set-up in any home, whether as a TV console in the living room, or in your office while you work from home.

Now you can easily bond with your bunny and binge-watch your favorite shows together or work alongside your furry co-worker.

Wherever you choose, our furniture helps make life with bunnies easier.
Rabbit-Safe Specifications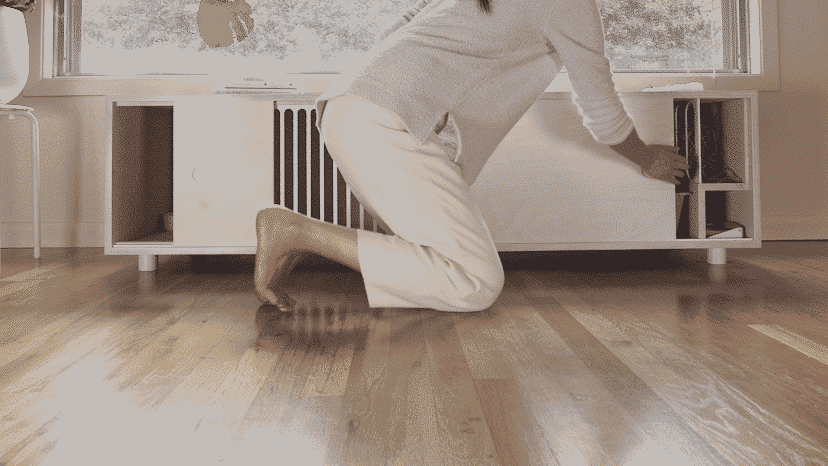 Easy to Clean
Waterproof interior with removable sliding doors and metal screen. All seams are sealed to prevent leaks or absorbing accidents.
Multifunctional
A litter box cover, a home-base, and a console table all in one—save space all while seamlessly blending your rabbit's set-up with the rest of your home.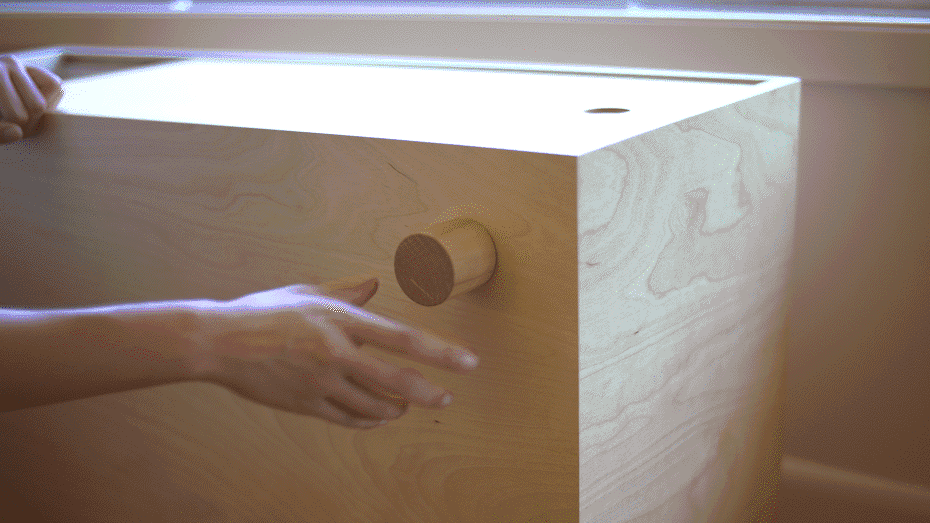 Removable Legs
Removable legs let you place furniture directly on the floor for disabled or mobility-challenged buns. You can also install found legs for a custom look that perfectly suits your space or make the furniture piece taller.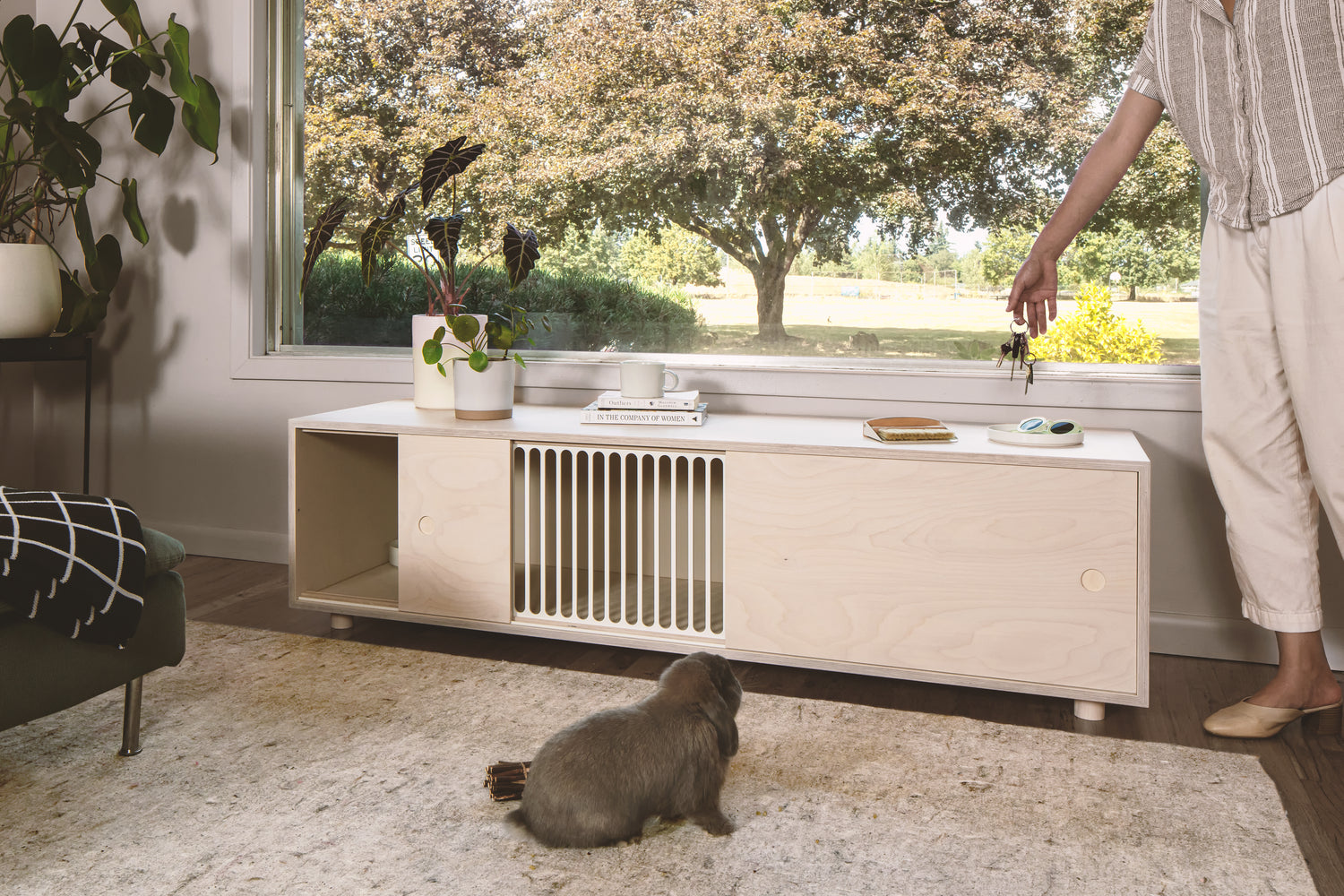 Built to Last a Lifetime
House rabbits are easily a 10-year commitment with proper care. Bink's furniture is a unique investment built to last forever—made with safety, integrity, and quality in mind.
What bunny parents are saying...
"The bunnies both LOVE the Credenza!

It's absolutely beautiful and the hay/ litter cleanup is astronomically easier to manage now.

Truly couldn't be happier with it!"

—Yoda & Obi-Wan's mom Shannon C.

"I'm impressed she seems to be transitioning quickly so far! I think she really just wanted a new place where she could rest under something. She's literally gone in there and flopped like 10 times already. I put her old litterbox in there and she seems to get it. Also that cubby is perfect for storing her meds out of sight."

—Apple's mom Hillary R.

"The Credenza arrived while Peaches was hospitalized and is life changing as an emergency recovery area. It's so perfect for keeping a bun on the mend in a clean environment and so easy to clean! The removable metal bars make it so I can interact and medicate Peaches easier without having to pick her up or disrupt her."




—Peaches, Cream, & Winter's mom Marlene S.
Absolute dream!
The credenza is a dream!
My partner and I are saving space because we finally have something that serves as a home base for our bunny and also something functional for us. Having a more integrated setup allows us to live much easier with our bunnies without the need to separate ourselves in the home. We are relieved to have a piece of furniture that isn't treated with toxic chemicals and doesn't stain when there are accidents. We love the dust pan and brush, which are gentle when sweeping up excess hay inside. The small compartment for storage also helps keep small items in one place. The sweater is comfy and super cute too!
The owner is not only professional but also very compassionate, especially when asking about our bun, Peaches, who got sick recently. While Peaches as hospitalized, the credenza arrived and it worked perfectly as a recovery space for a bun on bed rest. While Peaches was recovering, she was more at ease because she was still able to interact with us at her level. I am thankful because I could sleep next to her while she was recovering and keep and eye on her much easier. With the separate area for a litterbox, we were able to keep her tummy clean to prevent an infection at her incision site. The credenza allowed me to stay by her side much easier and our bond has grown deeper.
I noticed that my normally aggressive bunny is more confident in her environment, both during bed rest and after she became free roam again because she finally has a home base she's okay with. We're tried a lot of different home bases for Peaches and each one wasn't quite right at for her. Thank you for making this amazing furniture. Worth the investment!
Thank you so much for trusting us with your beloved bunny's needs. We understand where you're coming from—the love of our bunnies knows no bounds! Helping fellow dedicated bunny parents is our passion. Thank you so much for your early support that made BINK happen! -Jeni, bun-mom & founder at BINK
Beautiful addition to our home
As a rabbit owning family for nearly fifteen years, I've struggled to outfit our fuzzy buddies' space in a way that didn't ruin the aesthetic of our home (I want people to know we have bunnies but I don't want people to *know* we have bunnies when they first walk in the door). I've literally done it all: x-pens, cat litterbox solutions, converted side tables, draped a blanket over a dog kennel…We were so thrilled to see someone finally take the issue of living with bunnies beautifully as a legitimate problem to solve. We *hopped* at the opportunity to purchase the credenza as both the design and functionality spoke to us. It fits in so we'll with the rest of our furniture, and most people don't even realize it's a pet-specific item! Our large New Zealand bunny took to it right away, seeming to know it was a special space just for her and she immediately explored, flopped, and snoozed inside. We don't have hay or bunny kibble all over the place now, making it so easy to clean our joint living space. It's definitely an investment, but considering all the money spent on solutions that didn't last and needed to be replaced this was an investment worth making as our home will always welcome a rabbit in need. Real bunny people just get it :)
Thank you so much for taking the time to write this thoughtful review! It truly means so much to read this and connect with another bunny lover who just gets it. <3
Join or VIP Bunny Club! Be the first to know about exclusive offers + tips for better bunny living.